Welcome Back
Alyson Eisch
Monday, August 31, 2020
Good afternoon everyone! I am sure you are all as excited as we are to reconnect tomorrow.
Remember the school day starts at 8:15! Hope to see many of you in your Woods School gear!
This year we are taking time each day to See the Silver Lining!
We will be ready and waiting for our Woods at Home families at the front office doors from 10-2 pm. In the event of rain, we will have materials just inside the door near the library. We will ask that one adult and one child enter and have a mask on.
Just a reminder that we are asking for drop off and pick-up by cohort door. This could mean more than one door per family, thank you so much for your understanding!
Grades 6-8 far south middle school doors (Drop off between 8-8:15 and Pick-up at 3:15)
Grades 4K and 5K at the back circle (Drop off between 8-8:15 and Pick-up at 3:20)
Grades 1 & 2 at the back circle (Drop off between 8-8:15 and Pick-up at 3:25)
Grades 3-5 front office doors (Drop off between 8-8:15 and Pick-up at 3:30)- at pick-up please be sure to pull all the way up to the buses if you are the first car so that we can get as many of you off of the street as possible and send multiple children out.
Please help us out by creating a sign with your child's last name on it so we can try and speed up the process of getting your child to you!
Middle school families will enter the 4th driveway and proceed to the middle school doors. If you have additional children in 4K-2 you will take a right and head to the circle. If you have only a middle schooler you will turn left and head home, if you have a student in 3-5 you will take a left, head out onto Snake Rd, and back into the lot in the first driveway near the flag pole.
I know that we sent a lot of information home about our response to Covid-19 at Woods. The health department updated us last week that they will be providing us with updated data for the Woods community every two weeks. This will help inform any decisions around programming changes. Our approach to individual illnesses will also follow health department guidelines. I have shared documents and flow charts but I am sharing a video today that I believe does a really good job of clarifying the quarantine and isolation process and the who and when.
Health Dept Video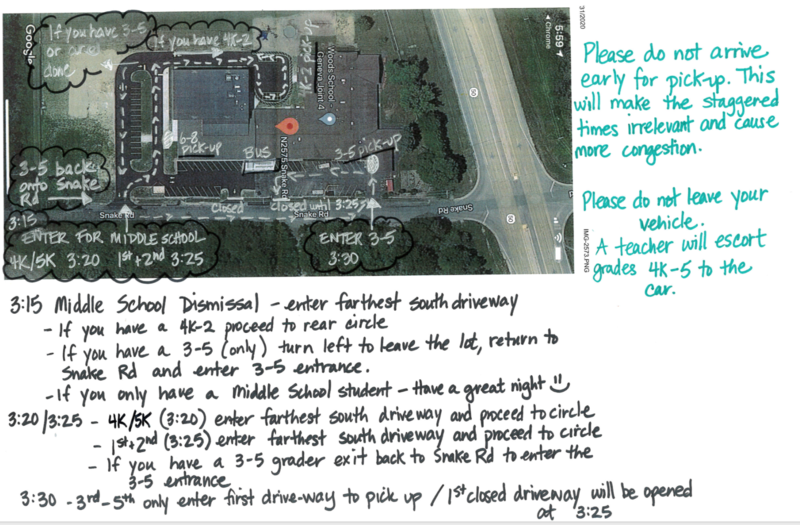 Please remember water bottles and headphones!
If your child is riding the bus please contact the bus company directly for pick-up information.
Thank you for your patience and understanding as we navigate truly uncharted waters. We couldn't do this without you!
Alyson